Oncology PET
Westside Medical Imaging Are Proud Participants In The National Oncologic PET Registry
The National Oncologic PET Registry (NOPR) was developed in response to the Centers for Medicare and Medicaid Services (CMS) proposal to expand coverage for FDG-PET to include cancers and indications not presently eligible for Medicare reimbursement. This offers tremendous opportunity for demonstrating effective management of cancer patients and for the expansion of PET covered indications.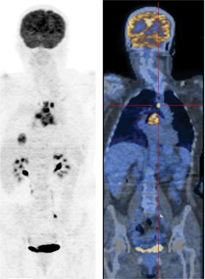 Top Ten NOPR Cancer Sites
Prostate
Ovary and uterine adenexa
Pancreas
Bladder
Kidney and other urinary tract
Small-cell lung
Stomach
Non-small cell lung
Uterus, body
Liver and intrahepatic bile ducts
Top Ten NOPR Cancer Sites/Indications
Ovary and uterine adenexa - Recurrence
Prostate - Initial staging
Prostate - Restaging
Prostate - Recurrence
Ovary and uterine adenexa - Restaging
Ovary and uterine adenexa - Treatment monitoring
Stomach - Initial staging
Pancreas - Initial staging
Bladder - Initial staging
Pancreas - Suspected primary
PET Bone Scans
A PET scan with sodium fluoride F 18 injection (18F NaF) is a nuclear imaging test that scans your entire skeletal system and produces high-resolution images of your bones. These images are used to detect areas of abnormal bone growth associated with tumors.
Listed below are many potentially useful applications
of PET imaging by indication.

Bladder Cancer
Brain Tumor
Hepatocellular Cancer
Musculoskeletal Tumors
Ovarian Cancer
Pancreatic Cancer
Prostate Cancer
Renal Cell Cancer
Small Cell Lung Cancer
Soft Tissue Sarcoma
Stomach Cancer
Testicular Cancer
Unknown Primary
Uterine Cancer
Thyroid Cancer and Cervical Cancer Thyroid Cancer
Cervical Cancer

NOPR Coverage for Evaluation of Treatment Response for:

Non small cell lung cancer
Esophageal Cancer
Head & Neck Cancer
Colorectal Cancer
Lymphoma
Melanoma
All other cancers not listed: http://www.cancerpetregistry.org/indications.htm
Staging lymph nodes
Assessing response to treatment
Evaluate suspected recurrence
Identifying recurrent disease after surgery and radiation
Process For Ordering FDG NOPR PET Studies: Referring Physiciand request a NOPR PET study, ideally, completing the Pre-PET Form at the time of scheduling. Once the test is completed the referring Physician completes Post-PET Form , indicates his/her consent for use of the data by NOPR, and returns all completed forms to Westside Medical Imaging.
Learn more about the National Oncologic PET Registry (NOPR) by visiting their Web site: http://www.cancerpetregistry.org/clinicians.htm